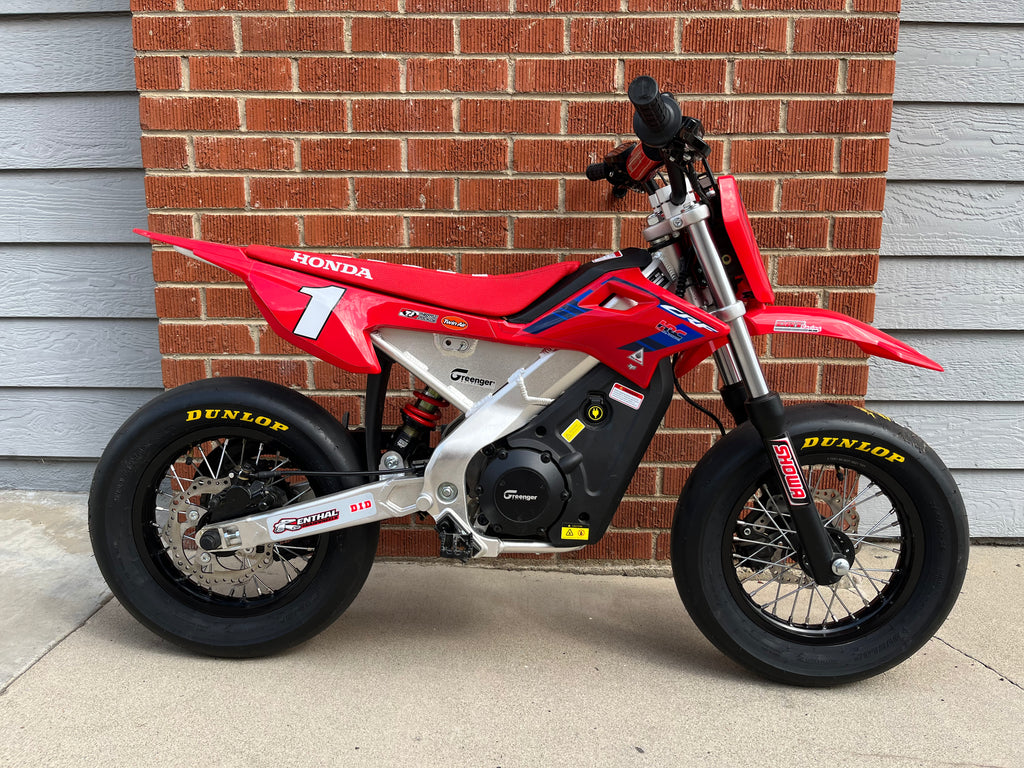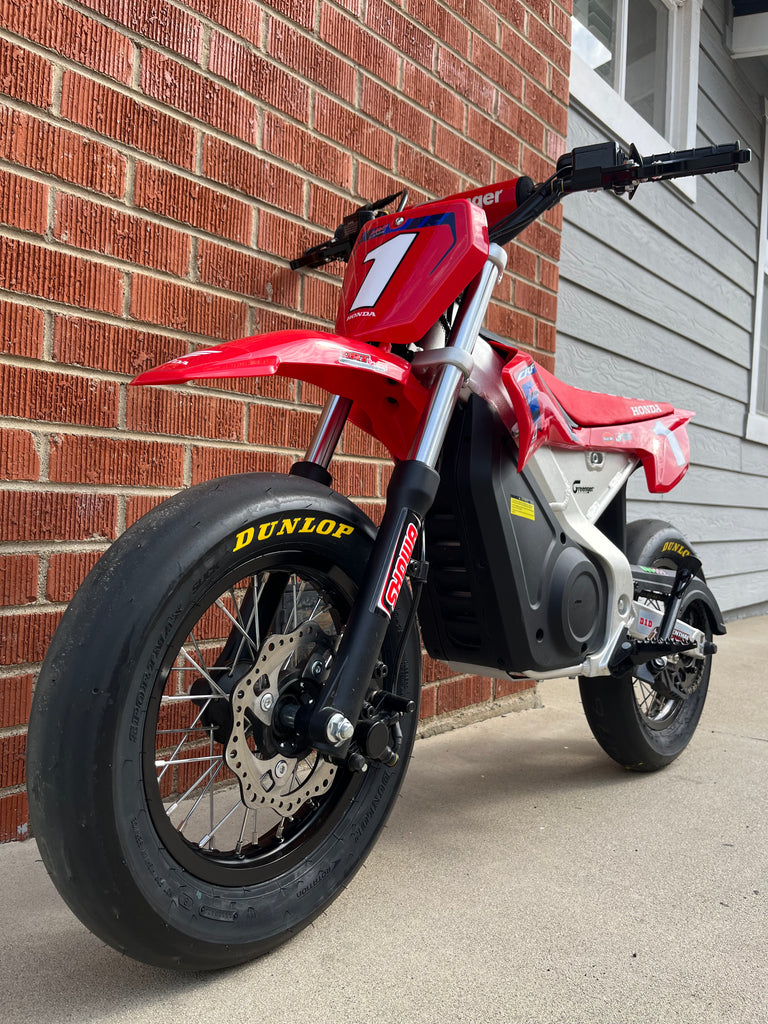 $3,499.99
$0.00
Honda CRF-E2SM by DRT Racing
The first look leaves a lasting impression and with our electric motorcycle they will never forget the experience. CRF-E2SM by DRT Racing is the electric equivalent of 50cc but without having to deal with the noise, emission, and heat from the gas engine.
Honda Official Licensed Product. Designed, manufactured and distributed by or for Greenger Electronic Technology LLC. Honda, the Wing logo, and CRF livery are licensed by American Honda Motor Co., Inc.
DRT Racing and select partners have taken the bike to the next level and making it supermoto ready to race in the first ever electric motorcycle spec class racing.
DRT Racing Spec CRF-E2SM
Stage 3 controller
Front Tire: Dunlop Sportmax 100/90-12 slick

Rear Tire: Dunlop Sportmax 100/90-12 slick

GUTS Racing seat cover (you pick colors)
Angled valve stem tubes
Specifications
Electric Motor: 

48 V- BLDC motor with inner rotor

Rated Output: 

1 KW / 2000RPM

Max. Power: 

2.5 KW

Torque: 

Rate:5.5Nm; Max:25Nm

Max Motor Speed: 

4,000 RPM

Final Drive: 

1:7.1

Drive Mode: 

Stage 1 , Stage 2 , Stage 3

Cooling System: 

Air Cooled

Powerpack: 

Swappable lithium-Ion battery, L*W*H:145*91*270mm, Weight:5.9kg(13lb)

Capacity/Energy: 

20 AH/960 Wh

Charging Time 1 00%: 

Standard: 4 Hours , Quick Charge: 2.5 Hours

Charging Time 80%: 

Standard: 3.2 Hours , Quick Charge: 2 Hours

Run Time: 

2 hours in ideal conditions with full charge

Charger Line Voltage: 

90-264 V/50-60 Hz

Charging Input: 

1.3A@230V(AC)

Charging Power: 

290 W

Frame: 

Aluminum twin-spar with Double-Cradle

Handlebar: 

Tapered Aluminum ϕ22mm

Front Suspension: 

Hydraulic Conventional Telescopic Fork ϕ33mm, Length 600mm(24.25inches)

Rear Suspension: 

DNM Rebound/Preload Adjustable, Length 230mm(9inches)

Suspension Travel Front/Rear: 

100mm(3.9ins)/97mm(3.8inches)

Front Brake: 

Hydraulic caliper w/ 190 mm petal-style rotor; right-hand-lever actuated

Rear Brake: 

Hydraulic caliper w/ 190 mm petal-style rotor; left-hand-lever actuated

Front/Rear Rims: 

12×1.6 spoke aluminum rim

Front/Rear Tires: Dunlop Sportmax 100/90-12

Chain: 

428H

Steering Head Angle: 

25°

Triple Clamp Offset: 

25°

Trail: 

32mm

Wheel Base: 

970mm (38inches)

Handlebar Height: 

860mm (33.8inches)

Ground Clearance: 

200mm (7.8inches)

Seat Height: 

Adjustable 630mm (24.8inches) / 650mm (25.5inches)

Overall length: 

1395mm (55inches)

Overall Width: 

690mm (27.1inches)

Overall Height: 

920mm (36.2inches)

Max Load: 

45kg (99lb)

Weight: 

48kg (106lb)